Choosing good font combinations is a key part of Graphic Design and Web Design in general. Good font pairings not only look good; they enhance readership. For really nice font-pairing ideas and inspiration, check out these resources!
Font Pair suggests good pairings of fonts found in the Google Fonts library.
Type Genius will ask you which font you'd like to use and then recommend a font that goes well with it. It can also show you real-world examples of its suggested font combos.
Type Connection is a web game that teaches you how to pair fonts. The site also has a showcase of font combinations for you in case you'd rather skip the game.
This project by designer Chad Mazzola showcases gorgeous typeface pairings of Google Fonts.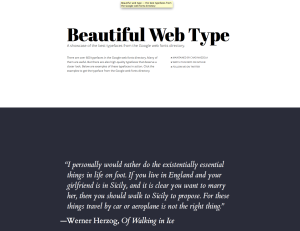 Typewolf features websites that have beautiful typography and lists the fonts used.
This site is a huge archive of designs with awesome typography. You can navigate to particular types of designs by industry (food and beverage for example), by format (like packaging or brochures) or by typeface.
7. Google Web Fonts Typographic Project
This open source project features beautiful combinations of Google Fonts for inspiration.
Just My Type is a collection of excellent pairings of Adobe Typekit and Hoefler & Co. web fonts. Really nice.
Great Pairs is a special section in the FontShop Blog. It talks about font combinations in great detail. The posts often delve into the history of the featured fonts.
Type.io will inspire you with its large collection of excellent font combinations. The archive currently has over 1,200 featured web designs.
Graphic Design & Web Design Classes
Learn Web Design or Graphic Design hands-on from our instructors in Toronto, Vancouver, Calgary, or at any of our design schools across Canada. Check out The Training Company to get started.
---
Subscribe to the Training Company email newsletter for the latest pro tips and special offers.
4,345 total views, 2 views today