Choosing the colours and the typefaces for a project used to take almost as long as the design process itself. Now, there are free online color palette tools that save you all that time.
One of the best colour palette generators is Coolors. It's super simple and user-friendly. Developed by web and app developer Fabrizio Bianchi, it is the quickest tool we've found for choosing colours.
Great App for Graphic Design Students and Pros 
Navigating the color palettes is fast and easy: Simply press the Spacebar on your keyboard and you'll be shown a new set of colors. When you find a colour you like, click on it. That locks it. If you like the entire palette, save it. If not, press the Spacebr again and all but the colour you clicked on will change. When you've got the colours you want, you can download your palette – or just take note of the rgb or cmyk values right there. This color app is a thing of beauty!!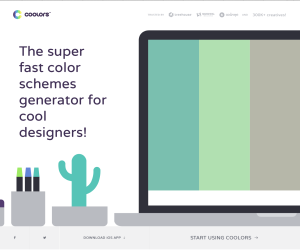 Learn Design Essentials in Toronto
Take professional design courses such Design Essentials and Indesign in Toronto, taught by industry leading professionals in a classroom setting.
Check out The Training Company for all of our design and graphic design courses.
---
Subscribe to the Training Company email newsletter for the latest pro tips and special offers.
4,175 total views, 1 views today